This spectacular bunny cake makes an excellent surprise for Easter. Rich, moist, with layers of delicious cream, and chocolate butter cocoa frosting.
Dough:
3 eggs
3/4 cup sugar
1 1/2 cups all-purpose flour
1/3 cup whipping cream
2/3 cup sour cream
2/3 can (14 oz can) sweetened condensed milk
1.5 teaspoons baking soda
3 teaspoons cocoa
Cream:
2/3 quart whipping cream
1/3 can sweetened condensed milk
1/3 cup superfine sugar
Frosting:
6 oz chocolate
1/2 cup superfine sugar
3 tablespoons unsalted butter
5 tablespoons milk
1 tablespoon corn starch
3 tablespoons cocoa
1 teaspoon vanilla extract
Decoration:
banan for paws and for cheeks
2 bluberries for eyes
1 raisin for nose
In a mixing bowl, beat all dough ingredients together. Crease and line one round 10-inch and one square 9×9-inch cake pans with baking parchment. Pour the mixture into the pans.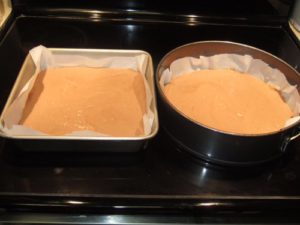 Bake for about 20 minutes at 420 F preheated oven until a wooden skewer inserted into the center comes out clean. Let cool completely.
Cut off about 2 inches along the entire perimeter of the round cake. The inner piece will become the first and the widest layer in the cake. Make the tail and ears from the leftovers. (You can also make the tail from an end piece of a banana.) Cut off two small segments of the round cake to make the remaining protruding part look like bunny's paws.
Cut and trim the square cake in 3 square pieces, each smaller than the other, and some 1-inch pieces. You will use them to build the bunny like a pyramid on top of the round piece.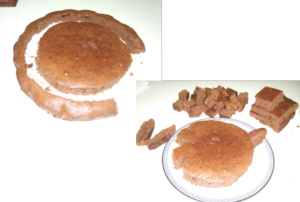 To make the cream, whisk all the cream ingredients together using mixer until fluffy, making sure to not overbeat.
Place the round part of the first layer of the cake on a serving platter. Spread the cream on the first layer. Add slices of banana for paws.
Put the largest of the squares on top and spread the cream.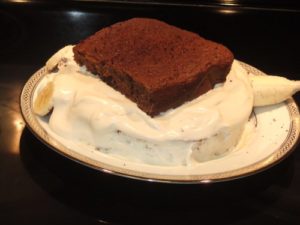 Continue to make a bunny-shaped body using the remaining pieces. Cover it with the rest of the cream.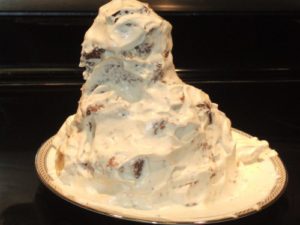 To make the frosting, mix all the frosting cream ingredients together and warm up in a microwave until the chocolate is melted but don't overheat.
Cover the bunny with frosting.
Decorate the cake with slices of banana, bluberries and raisin. Attach the ears with a little frosting, or use a toothpick to attach them to the head. Make the eyes out of two bluberries. Use round banana slices for cheeks, and a raisin for a nose.