This classic French dessert is easy-to-prepare, rich, crispy, and absolutely delicious. Multiple crispy layers interlaced with a contrasting light butter cream filling.
Dough:
1 egg
6 oz. butter (a little frozen)
3 cups all-purpose flour
1 tablespoon vinegar
1 pinch salt
Cream:
1 egg
3/4 cup sugar
1 cup whipping cream
6 oz. butter (at room temperature)
1 teaspoon vanilin
To prepare dough: grate (or mince) butter and continue to sift in flour during the process to prevent the butter pieces from sticking. Add more flour, chop with knife into chunks. In measuring cup combine 1 egg, salt, vinegar and pour cold water until the cup gets full, mix it well. (The more water you add, the longer you would need to keep the dough in a refrigirator, otherwise it will be hard to roll out the sheets.) Pour the content of the cup into the chopped butter mixture together, Make a dough, start with a spoon, finish with the hands. Put in the refrigerator for at least 2-3 hours or overnight.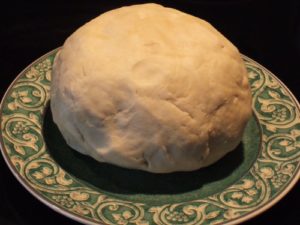 Remove dough from the refrigerator, cut it in three parts. On a lightly floured surface, roll out each part of dough into a large rectangle, making it as thin as possible. Transfer the rolled out pastry onto a baking sheet. Cut it into two equal parts (see below). Prick the top of pastry with a fork to prevent bubbles. Bake in a preheated oven at 350 F for 10 min or until slightly brown. If you oven doesn't bake evenly, you may need turn the sheets over. Let the sheets cool off.
To prepare the cream filling: in a large saucepan combine the egg, sugar, and vanilin. Mix evenly. Slowly pour in the whipping cream, mix it very well. Put the cream filling on the stove (light heat) until it comes to boil. Take it off the heat and cool it down.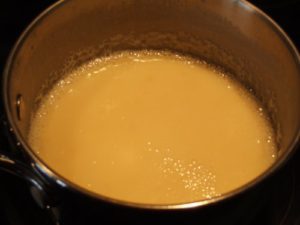 Use a mixer to beat the butter together with the whipping cream mixture (add 2-3 tablespoons of cream mixture at one time) in a medium bowl.
To assemble: using a spoon, spread a thick layer of cream filling (3 tablespoons) on each sheet of baked pastry, and stack them together. Don't spread the cream on the top sheet just yet. First, use a cutting board to press down the sheets together a little bit, to make the cake flatter. Then, spread the cream on top of the last sheet. Roll out or crumble the leftover pieces of pastry and sprinkle on top. Refrigerate until ready to serve.