These beef rolls are stuffed with dried fruit, wrapped in bacon, and broiled. The filling might seem unusual, but it gives a great sweet-sourish taste. It is easier to make than the popular chicken roulades.
2.5 lb ground beef
1/2 cup chopped green onions
2 tablespoon fresh chopped basil
1/3 cups chopped cilantro
1/2 cup milk
1 tablespoon of steak seasoning (or salt and pepper)
21 thin slices bacon
1.5 cups dried cranberries and dried prunes (cut lengthwise into pieces)
Mix together beef, green onions, basil, milk, cilantro and seasoning in big bowl.
Divide the beef into 14 balls, then form them into oval-shaped patties. Put one tablespoon of the filling (cranberries and prunes) on each patty. Starting on the widest side, roll up the patty tightly. Gently wrap 1.5 slices of bacon around each patty.
The sausages can be prepared in advance and frozen in a container (as shown in the picture). You can cook them the same way as freshly made patties, without having to defrost first.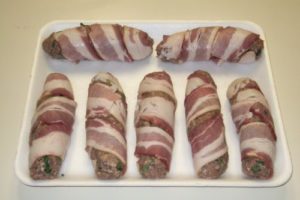 Place in a baking dish. Broil for 30 minutes in a preheated oven until the bacon is brown and crisp on both sides, 15 minutes per side. Pour off the fat from the baking dish in the middle of broiling.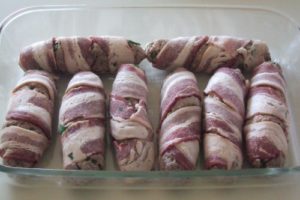 Remove from the oven. Transfer sausages to a plate using tongs. Serve immediately with vegetables.