This chicken and mushrooms casserole is very easy to prepare, with cooked chicken, mushrooms, cream of chicken soup, and shredded cheddar cheese. Always a favorite.
2 chicken breasts, cooked and diced
2 cans (10 3/4 ounces each) cream of chicken soup
8 ounces shredded Cheddar cheese
24 ounces baby bella (or any kind) fresh mushrooms
Serves 5.
Broil mushrooms for 20 minutes. Turn off the heat and let them stand another 10 minutes.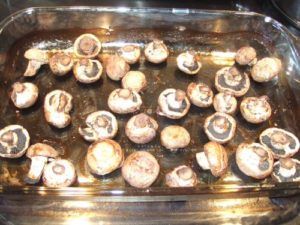 Cut the mushrooms into small pieces.
In a large pot, boil the chicken until tender. Cut the breasts into cubes.
You can cook chicken and mushrooms in advance.
Layer the chicken cubes in a 7×12 inch oval baking dish, then make a layer the mushrooms pieces and then pour in the cream of chicken.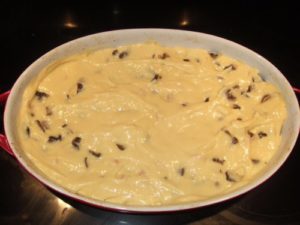 Bake in the preheated 400 F oven for 20 minutes.
Spread the cheddar cheese over the top of casserole and bake for another 5 minutes.