A delicious and easy to roast lamb recipe. Leg of lamb is roasted with garlic, salt, pepper and onions. Tasty and juicy, perfect for a holiday feast.

1 (5.1 lb.) boneless leg of lamb
5 cloves garlic, slivered
1 large onion, sliced
2 tablespoons steak seasoning (or salt and pepper)
Put the lamb in a big bowl. Rub it with grill seasoning. Add a sliced onion all around the meat. Allow the meat to marinate for at least 3 hours or overnight in a refregirator.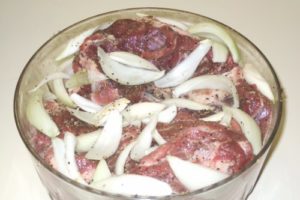 Using a sharp, small knife, make 10 small slits in the lamb. Insert garlic into slits.
Place the roast in a roasting pan.
Heat oven to 375 F.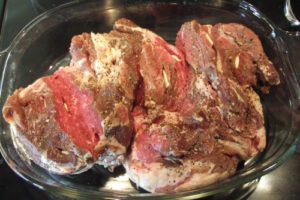 Roast for 1 hour and 40 minutes for a well-done meat or until the meat thermometer inserted into the thickest part of the leg shows 175 F.
Remove the roast to a serving platter. Serve with potatoes, green beans or pilaf.