This traditional Russian main dish is very easy to make. The ground beef kotleti are flavored with dill and green onions. They are coated in bread crumbs and broiled. Crisp on the outside and moist and tender on the inside, they can be prepared in advance and frozen to be reheated later.

1.2 lb. ground beef
1/2 cup of milk
1 tablespoon (heaping) steak seasoning (or salt and pepper)
1/2 cup green onions, chopped
1/2 cup minced dill
1 cup mashed potatoes
1/4 teaspoon ground ginger (optional)
1/4 teaspoon ground coriander (optional)
1 egg
1 cup bread crumbs
Makes 12 large kotleti (meatballs).
Mix all the ingredients, except for bread crumbs, in a big bowl. Mix very well.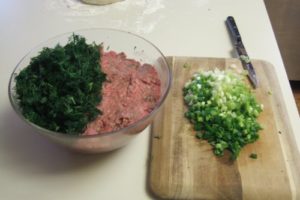 Divide the beef into 12 balls, then form them into oval-shaped patties. The pattie should be about 3/4 inch thick. Roll the kotleti in bread crumbs until completely coated.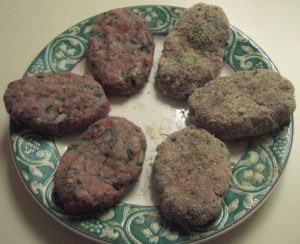 The patties can be prepared in advance and frozen in a container (as shown in the picture). You can cook them the same way as freshly made patties, without having to defrost them first.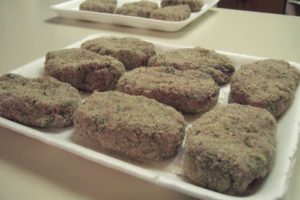 Broil for 30 minutes in a preheated oven until crisp and brown on both sides, 15 minutes per side. While traditionaly the kotleti are fried in oil in heavy skillet, broiling is more healthy.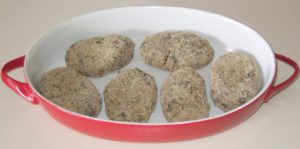 Serve the kotleti with potatoes, vegetables or pastry.